Free Fire All Stars Asia 2021: Day 1 (Bomb Squad) Recap
2021/07/23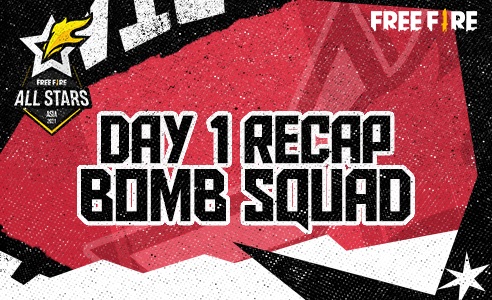 Free Fire All Stars Asia 2021 kicked off today. We have three days of high-octane Free Fire action in store for you all. Today, we started off with the Bomb Squad mode. Tomorrow, we will have the Clash Squad mode, followed by Battle Royale on Day 3. Indonesian players showed us what they are made of today, as they were able to clinch the championship.
We came up with catchy names related to the most iconic food dishes of these regions, and Indonesians showed us the noodle supremacy. Let's recap everything that went down today.
The tournament followed a single-elimination format. The teams had to go through quarter-finals, to semis, and then to the Grand Finals to win the tournament.
QUARTER-FINALS
Pho (Vietnam) vs Biryani (Pakistan)
Game 1 - Biryani won the first two rounds, but Pho made a comeback by simply killing everyone to bring the score to 2-2. Sometimes they did not even let the bomb get planted. With an eventual tussle, both the teams pushed the score to 3-3. To everyone's surprise, Biryani pulled off a sneaky ninja defuse in the last round and took game 1.
Game 2 - Upon looking closely at the first game, one would realize that Pho was more tactical and organized, whereas biryani liked having a fast and aggressive playstyle. Pho used their same tactical approach and this time set up more elaborate traps that they were able to use against Biryani. Biryani fell for the traps hook line and sinker and Pho were able to win that match pretty easily, bringing the scoreline to 1-1.
Game 3 - As we jumped into the last game, it seemed like Biryani had caught on to the playstyle of Pho and were also playing a little conservatively. But Pho had really good flanks coming in every time Biryani tried to go in for the objective. AS Mobile played really well and got several impact frags for his team. With this, Pho won the match 2-1 and advanced to the semi-finals.
Dosa (India) vs Boba (Taiwan)
Game 1 - Boba seemed to be in cruise control right from the start, as they were doing everything right. They not only were getting kills very often, but their responses to the objectives were also very quick. Boba would have had a flawless game if it wasn't for Pahadi. He managed to gather enough money to buy an AWM, and with that, he clutched a near impossible round on less than 50 HP. That was the only round Team Dosa was able to win.
Game 2 - Dosa showed some signs of resurgence as they put several rounds on the board. Sooneeta and Pahadi both with a double-kill in consecutive rounds were able to take a massive 3-0 lead. It seemed for a second that Dosa would pull off the reverse sweep, but that's when Boba started to blow the opposition out of the water. The deadly duo of Roro and Yoyo were winning all their fights against Dosa. The incredible grenades from Yoyo seemed like they had a magnet attached to them, and the Dosa members were made of iron. Those grenades were able to pass through windows, past gloo walls, and land directly on their enemies, sometimes knocking down two people at once. Boba fought hard and came back with a score of 4-3, to complete the game 2-0. Once Dosa reached match point, Boba refused to concede even a single round and finished the best-of-3 affair in just two games.
Durian (MCP) vs Som Tum (Thailand)
Game 1 - The first game can be summed up as 'the Poongod show', as he was going berserk in every round. It doesn't matter whether the bomb has been planted or not, Som Tum was able to out-aim their opponents every time as the firepower was a bit too much to handle for the Durian. The Thai team won the first game 4-1 without much difficulty. The one round that they lost too, wasn't because they couldn't frag, it was because they didn't bother defusing the bomb.
Game 2 - The domination continues as Poongod picked up 8 huge frags and dished out more than 2000 points of damage. His ex-teammate TheCruz too stepped up massively this time with 6 kills of his own. Som Tum destroyed them 4-0 and wrapped up the game quickly to move to the semi-finals.
Indomee (Indonesia) vs Hilsha (Bangladesh)
Game 1 - The star player of the team was Bion. He was the one getting frags left, right, and center, with weapons and grenades alike. He was able to buy his team the time and space to play for the objective. LETDA and EFDEWE were always playing together, backing each other up with gloo walls and Time-Turners to defuse or plant the bomb. The Indonesian team won 4-1.
Game 2 - Indomee won the first two rounds without much difficulty, but then Hilsha pulled out some pocket strats. In round 3, Hilsha went for the defuse the moment Indomee planted the bomb. The Bangladeshi team did not let anyone on Indomee take defensive positions. All four players rushed the bomb and committed their Time-Turners and Gloo Walls to defuse the bomb without bothering to kill their opponents. This smart tactic got them one round, and a little bit of hope as well. They seemed like they could continue that momentum to win the next round 4 as well as they were getting all the kills, but then Bion pulled off a 1 vs 3 clutch to bury their hopes and dreams right there. Indomee made quick work of them and shut the series down 2-0.
The four teams moving ahead to the Day 1 Semi-final: BOBA, PHO, INDOMEE and SOMTUM
SEMI FINALS
Pho (Vietnam) vs Boba (Taiwan)
Game 1 - Pho won the first two rounds by deploying AS Mobile as their lurker, while the rest of the squad attacked together. It worked for them twice, but the third round was close. The lurkers were caught off guard and they couldn't arrive in time. Boba took the third round in the bag by the skin of their teeth. But after that, Boba had some really solid strats. When it was their turn to plant the bomb, Yoyo put up some really creative gloo walls stacked on top of each other to get to the roof of the factory and planted the bomb there. Nobody could figure out where the bomb was and they won the round easily to bring the score to 3-3.
Pho caught on and raced them to the high ground in the next round on Shipyard. Both the teams brawled there, and Pho came out on top. It was a close game but they won 4-3.
Game 2 - Roro started the first round with an ace. Triple knock with a single grenade followed by a punch kill to win the first round for Boba in style. That grenade was one spicy meatball. This series was probably the sweatiest series of them all, as both the games went the distance. Both the teams exchanged blow for blow and tied the series at 3-3. Pho closed out the last round narrowly to win 4-3 and finish the series 2-0. Time was Boba's biggest enemy. In the Observatory, Boba was able to kill all the attackers but could not defuse the bomb in time. In Pochinok, Pho kept delaying them and stopped them from planting. In this way, Pho was able to win two crucial rounds simply by paying attention to the clock. The Vietnamese team had now locked the Grand Finals slot down for themselves.
Indomee (Indonesia) vs Som Tum (Thailand)
Game 1 - Bion kicked things off really well by winning a 1 vs 3 fight, but still lost because Som Tum ran the timer down and the bomb exploded. Som Tum won the next two rounds after that as well. The whole game basically turned into a Poongod vs Bion affair, with Garduu sometimes chiming in with double kills. Indomee reverse swept the game. From trailing 1-3 to winning 4-3, the Indonesian team surged forth on the back of Bion and Garduu.

Game 2 - Bion hit his peak power as he opened the first round with a triple kill. Som Tum did not let that affect them as their nades were better this time, allowing them to win three rounds in a row and get the score to 1-3 in their favour. Indomee also hit back with equal power, bringing the series back to 3-3, but Som Tum edged them out to win 4-3 and pushed into Game 3.
Game 3 - Indomee won the first two rounds by playing the bomb to perfection. This could have been a 3-0 start but they were relying a bit too much on Bion, and hence Som Tum got their first round. But that was only a consolation round, as the Indonesians closed out the game 4-1 in the next round, putting the final series scores at 2-1.
They would now be facing Pho in the Grand Finals
DAY 1 GRAND FINALS: PHO vs INDOMEE
Game 1 - Pho started to absolutely destroy Indomee right from the get-go. With a 3-0 lead, this was Guerrilla warfare at its finest. But on the other hand, Bion was just getting warmed up. He had no intention to let them take the first game. A double kill and good trades in round 4, an ace in round 5, followed by a triple kill with just nades in round 6, Bion's performance single-handedly got Indomee three rounds in a row, and he tied the series up at 3-3. Unfortunately, it wasn't enough as Banh and Ma Gaming were able to bring the last round back in their favour.
Game 2 - Indomee this time started off really well. Their coordination was superb. They covered each other while planting or defusing the bomb really well, sometimes even body blocking the shots of the opponent to make sure that the diffuser does not die, even if there is no Time Turners or Gloo Walls available. Ma Gaming from Pho made things a little dicey when he stepped up to get two rounds in a row, but in the end, Indomee clutched it out to win the game 4-2.
Game 3 - Surprisingly, Bion was not the only one stepping up this time for his team. Garduu also did really well this time, getting triple kills in two rounds. Indomee brought the series back as they closed the series at 4-1.
Game 4 - Once again we saw comebacks upon comebacks. Pho had a decent start to the game, but Indomee players started to pop off. LETDA did a brilliant job of holding the fort around the bomb sites and pushed the game to 3-3. Bion almost clutched the last round to win the entire tournament, but Ma Gaming won the last duel to deny him the clutch and take us into Game 5.
Game 5 - Whatever strategy both the teams had in mind had been burnt out. They were both trying to one-up the other. Be it with sneaky plants, or cheeky ninja defuses. Nades were of crucial importance in this game, as it seemed like most of the kills were coming from the explosives instead of regular guns. Trading blow for blow, round for round, the team was once again tied at 3-3. Just one round stood between them and the championship.
The last round took us to the Shipyard. ASMobile went in for a very quick plant, but as the rest of his teammates were trying to take post-plant positions, the players of Indomee surrounded the block of containers that they were hiding around. They killed everyone and defused the bomb with plenty of time remaining.
INDOMEE from Thailand won the Day 1- Bomb Squad mode championship of Free Fire All Stars Asia 2021!! Tune in tomorrow to witness these amazing players duke it out in Clash Squad mode!