Total Gaming Esports and PVS Gaming Esports fell short to qualify for FFAC Grand Finals.
2021/11/22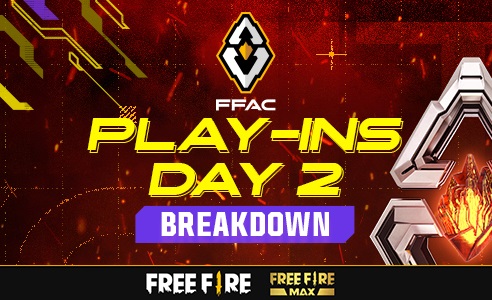 The finalists are locked in. The Free Fire Asia Championship 2021 has just entered its peak stage. Team CGGG, GPX Esports and Heavy have successfully qualified for the Grand Finals. It was a marvelous day with plenty of dazzling moments from these teams. If you missed the action yesterday, then this recap is for you.
GPX Esports take charge with both hands
This Indonesian team began their day with a "double-whammy". By winning two booyahs in a row, GPX Esports wove themselves a comfortable security blanket. Their performance and game awareness in the first two games off the day is impeccable. They were always a step ahead of their opponents. They gauged their options and kept an eye out for windows of opportunities.
The first game was a hard fought and well deserved victory. The last four teams encircled the Silo region of Bimasakti Strip, and ascended uphill in a fair match. All the teams were well equipped and had all their players alive at full health. No team had any sort of zone advantage either. They were all on the edges of the zone and had to converge in the centre for a four-way brawl. GPX Esports slowly crept up the slopes of Silo like a slow but impenetrable tank. Their ability to keep all their men on their feet is what won them the first game.
Kalahari showed us their tactical side. Their intuition kept them alive up until the fourth circle. They charted their path into a small house under the shadow of Refinery. The final shift of the blue zone forced them out of their house, but they still held onto cover and chipped away at their opponents hitpoints. Bobbing in and out of their gloo wall mazes, they grabbed the second win with great teamwork.
Heavy riverside battles
Biblically, Purgatory is the space between heaven and hell. The name of the third map truly manifested in its true form yesterday. The zone split between the main island and the southern island. Small sections of Campsite and Lumber Mill were available to play on either side of the river. Team Heavy punished CGGG for splitting up in a 3-1 formation. To give you more context, CGGG was present in Campsite from the early stages of the game. BOX Gaming were popping off in this game. They had slain 12 enemies and entered the circle hot, where they were stopped by The Pillars Gladius, who in turn, were stopped by CGGG. The Vietnamese underdogs were trying to play boss towards this side of the island. They would have probably been able to establish their authority too, but Heavy turned CGGG's strength into their weaknesses. CGGG.MOMO was positioned alone in a watchtower, while the others were playing in the tents. Heavy pushed Momo's watchtower and captured it for themselves. It was easy to overwhelm poor Momo with their superior numbers. They proceeded to turn this into a fortress and win the game.
BOX Gaming finally convert brute force into booyah
The second iteration of Bermuda marked the return of BOX Gaming. They had a slow start, but they woke up and chose violence in Purgatory. A crucial twelve frag game changed their fate. This also changed them, and made them realize the strength of their weapons. They finally won a booyah in the fourth match by positioning themselves above the bridge near Katulistiwa.
CGGG exact revenge against Heavy in Kalahari, for what Heavy did to them in Purgatory
CGGG was well on their way to win Map 3 (Purgatory), but Heavy caught one of their estranged players and stole the booyah away from them. CGGG did the same thing to them in Map 5 (Kalahari). Unlike last time, this time CGGG made sure that they don't bite off more than they can chew. Instead of sending a scout ahead, they fanned out equidistantly and covered each other's backs.
Heavy drive their point home
With rivalries and revenge stories plotting everywhere, Team Heavy crushed everyone with their heavyweight fire power. The last map of Purgatory is where this team held their final ground. The stakes were high for them. CGGG had too big of a lead at 89, and the double booyah from GPX Esports kept them safe. If they couldn't get into the top 2 of their own group, they at least needed to stay above Supreme Assault Forces - the third-best team from Group A. Kimchon stepped up for his team and got 5 kills with 1179 damage. That last booyah got them the boost they needed and propelled them to 75 points on the overall score board. With this, Heavy became the fifth team to qualify for the Grand Finals of Free Fire Asia Championship 2021.
Indian teams stepping up
On Day 1, Desi Gamers Esports finished dead last with only a handful of points. However, yesterday, Total Gaming Esports and PVS Gaming Esports had a much better performance. Total Gaming Esports finished sixth, while PVS were eighth. None of these teams were playing passively, that's why they had some kill points and information to get placements too. While Total Gaming Esports lost plenty of players early on several occasions, they made up for it by surviving and getting placement points. FozyAjay had some funny sneaky moments in Game 4, and similarly, Total Gaming Esports had to rat their way to better placements. PVS was not afraid of contesting hot drops like Peak. While we did not have a single qualifying team, at least the pressure of the lobby didn't get to these two like it did to Desi Gamers. Now the only Indian team we have in the finals is Team Elite. We wish them luck.
HQ Esports, SYZYGY Raiders, CGGG, GPX Esports and Heavy have passed the Play-Ins and will be heading to the finals for a chance to win $80,000. To watch them in action, tune in to our official Free Fire Esports India YouTube channels on 28th November 2021 at 3:00 PM IST.