Tough day for Desi Gamers Esports at Day 1 of Play-Ins
2021/11/21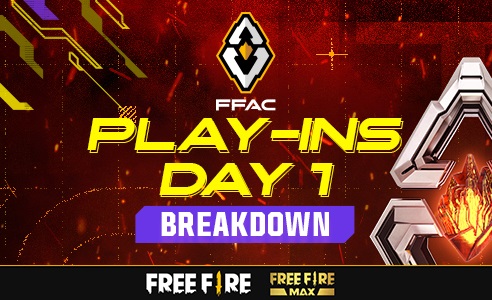 A truck load of story lines rammed into our hearts yesterday. The Free Fire Asia Championship was all that we expected and more, and this was just the beginning. The first day of the Play-Ins was really intense. HQ Esports and SYZYGY Raiders qualified for the Grand Finals yesterday. While HQ Esports and King Of Gamers Club kept on getting booyahs repeatedly, it was the Raiders' superior consistency that got them the coveted second qualification spot. However, there is so much more to this day than just the upper echelon. If you missed the first day of the Play-Ins, then this recap is for you.
HQ Esports off to a flying start, maintaining their stay at the top despite the turbulence.
HQ Esports won the first game of the tournament. They got the booyah in a very smart way by positioning themselves brilliantly. They isolated and exterminated their enemies tactfully, getting 14 kills in the process. They were aggressive right from the start. With an opportunity to third party the Supreme Assault Forces and No. 1 King, they moved swiftly after looting their guns and got their first squad wipe. FunkyM clutched that fight and kept the team alive. They continued to steamroll on other teams from that moment. They didn't even mind staying behind outside the blue zone to finish off SES Alfalink. With eight kills already in their pocket, they entered the circle late after tanking quite a lot of zone damage. By that time, several other squads had already fallen and they entered safely. Artemis got six kills and ThaiSon got 5. This amazing start is what kept HQ Esports afloat for the first cycle of maps.
King of Gamers Club had a terrible start but bounced back equally hard
King of Gamers Club had a rough start to the tournament as they were one of the first teams to get eliminated in Bermuda. Keep in mind, this was one of the best squads of the FFCS last year, so seeing them lose this early certainly was shocking for everyone. However, they relieved all their fans by winning the next two games on Kalahari and Purgatory in a row.
KOG stayed directly under the shadow of the Refinery and its valleys. They were in a spot where they could move away in any direction if the situation went south. They also had getaway vehicles as a backup. With so many options and opportunities before them, nobody could pin them down and KOG had their way with the zone. This resulted in an easy booyah, reminding us why they are one the best teams in the world. They drove that point home even further by winning Purgatory as well.
SES Alfalink became the kingslayers
As we approached Purgatory, we were really excited to see HQ Esports and KOG fighting each other. Both of the teams were known to drop in Moathouse, and they were the two teams with the booyahs so far. However, HQ Esports decided to change their drop location and went towards Crossroads instead, the same spot as SES Alfalink.
It's funny how HQ Esports and KOG had mutually exclusive games. Everytime one of them had a great game, the other one suffered. In the first map, KOG faced an early elimination at the hands of SES Alfalink. In map 3 (Purgatory), SES Alfalink wiped out HQ Esports. With them eliminating both the teams that were on the top so far at least once, they were dubbed as the 'kingslayers' by the casters.
KOG won Purgatory too, by positioning themselves on the plateau road that runs to the north of Fields. They had a great line of sight on all the teams from there and were virtually invulnerable on the high ground.
History repeated itself on Bermuda, but the Raiders were out to rewrite history
The second iteration of Bermuda (map 4) was a carbon copy of the first map. Just as Map 1, SES Alfalink and KOG clashed with each other in Mill, and SES Alfalink eliminated them. HQ Esports once again won the booyah. We can dub them as the true masters of Bermuda since they won both the matches on this map. However, none of those storylines mattered. While both KOG and HQ Esports were grabbing booyahs, SYZYGY Raiders were playing consistently all throughout. They were at the top of the leaderboard by the time the first cycle of maps ended. With superior consistency, they managed to stay at the top of the table for almost the entire day, only relinquishing the top spot to HQ Esports after they got their third booyah. Yes, that's right, their third one.
HQ Esports also won maps back to back, putting up their third win of the day
The fifth map finish seemed like it was straight out of a Hollywood action movie. As we all know, Kalahari is a map full of difficult terrain, and having the high ground doesn't necessarily mean that one has the advantage. SYZYGY Raiders experienced that first hand when they were stuck on the top of a cliff and were forced to jump down because of the zone. While they realized that this game is probably out of their grasp already, they decided to go down in style. SYZ.Nickky hopped onto a motorbike and rolled off the cliff, heading straight down as if he was in a scene from The Fast and Furious. He then committed a series of hit-and-run moves with his bike, trying to score a kill or two. While his dubious attempts were incredibly entertaining to watch, HQ Esports solidified their standing by winning the game, without letting the chaotic finish bother them too much.
The resurgence of the worthy, rivalry a-plenty
SES Alfalink had fragged some notorious opponents all throughout the day, but had yet to get themselves a booyah. They finally bagged on in the last game of the day, converting their high firepower into map control and besting overwhelming odds to do so. Unfortunately, that booyah wasn't enough to get them anywhere close to qualifying. Supreme Assault Forces also overtook SES Alfalink and got to third place by the end of the day with 28 kills and 66 points.
King of Gamers Club were unable to maintain their momentum towards the latter parts of the day, and hence slipped down to fifth place. This was rather heartbreaking, considering they won two booyahs in a row, yet succumbed to teams without any booyahs to their name.
This wasn't the only tragedy that occured yesterday. Five Mutants and God Of Wolf kept fighting each other in almost every map. In Bermuda and Kalahari, they contested each others' hot drop. In Purgatory, while they both had the opportunity to disengage, they both sought each other out. This toxic ego battle ruined the Play-Ins for both of them.
Our Indian representatives, Desi Gamers Esports performed atrociously. They finished dead last and scored only 13 points. With questionable rotations and the lack of bravery to fight back, Desi Gamers Esports scored less than half of the team that finished 11th. They surprised everyone with their miracle run at the FFIC 2021 Fall to qualify for the Free Fire Asia Championship 2021, but it seems like miracles don't bless you twice.
However the Indian flame hasn't died out yet. Total Gaming Esports and PVS Gaming Esports will be playing today on Day 2 of FFAC Play-Ins. Come and cheer for them as they need your energy! Tune in to our official Free Fire Esports India YouTube channels at 3:00 PM IST to show your support.