Another 6 teams are through to the FFIC 2021 Fall Finals
10/11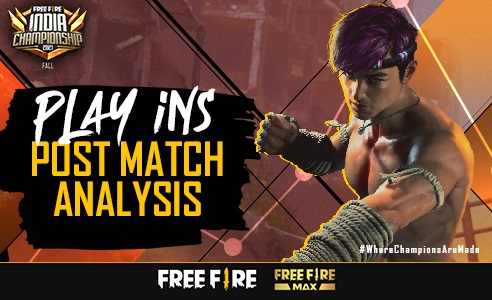 Through great perseverance and determination, 6 squads have reached the foothills of glory - The Free Fire India Championship 2021 Fall Grand Finals. 12 teams entered the arena yesterday after failing to qualify from the League Stage, 6 of them have a chance to immortalize their name, if they win the Grand Finals on 17th October 2021.
The teams that have qualified yesterday for the FFIC 2021 Fall Grand Finals are;
1. PVS Gaming Esports

2. Team Elite

3. TSM

4. Team Chaos

5. Aura Gaming Esports

6. LR7 Esports
PVS Gaming Esports are no longer underdogs, they are the kings of Bermuda
We have always spoken about how it's critical to have at least one ace-in-the-hole map during high-pressure days like Play-Ins and Finals. There are certain teams that are associated with certain maps. For example, 4Unknown are considered to be one of the best in Kalahari, similarly Team Chaos in Purgatory. However, nobody has been consistent enough to lay their claim on Bermuda. That terrain still remains unconquered. Yesterday, PVS Gaming Esports proved that they have what it takes to unfurl their flag high in Bermuda. When they entered the tournament, they were considered an underdog, but now they are legends. They won two booyahs, both in Bermuda. Imagine having Bermuda as your strongest map during the finals. It will be insane! PVS Gaming Esports played out of their minds yesterday. Three of their players were in the top 5 kill leaders of the day. They were one point shy of a century. With this, they are one of the only teams that have gone from amateur to professional within a very short time.
There are other teams too that have established dominance over Bermuda during the League Stage. Blind Esports was one of the teams that have achieved this high peak. After strong-arming everyone in the Play-Ins. Will PVS Gaming Esports be able to out wrestle their opponents in the finals?
Team Chaos call dibs on Purgatory
We mentioned before that Team Chaos were once upon a time called the best team of Purgatory. Unfortunately throughout the League Stage, their performance has been abysmal.
Yesterday, however, they had their moment of resurgence. Their tactful moves in Purgatory forced errors out of their opponents. Team Chaos challenged Team Elite at the heaven compound by sandwiching them in between another team. After they captured that area for themselves, they held their ground and wiped out the other stragglers. This was a much needed win for Team Chaos, because their performances in the other games were mediocre. If it wasn't for this booyah, they wouldn't have made it to the grand finals.
Team Elite make up for the lapses in performance
Team Elite got a little too desperate on the last day of League Stages by attempting to target 4Unknown. Hot-dropping against them in almost every game cost them the ticket to the Grand Finals. Today they learnt from their mistakes and did not overcommit. Pahadi experienced newfound love for the AC80 DMR and laid down covering fire for the team. He propelled his team to second place on the overall standings, and himself to second place on the kill leaderboard. He had 14 kills and 8693 damage yesterday, which helped them get several top 3 finishes in multiple games. The cherry on top of the cake was their incredible win in Kalahari. They displayed great patience and composure even when they were stuck in an open area and took away the win gracefully.
TSM, Aura Gaming Esports and LR7 make their mark without booyahs
TSM-OldMonk had a great day with 13 kills and 6038 damage. He was a key factor behind TSM's qualification today. Whether it's supporting his rushers with trade fragging, or surviving for his team to grab placement points, OldMonk did whatever was necessary to push his team over the edge.
Aura Gaming Esports had already impressed everyone with their performance in the League Stage and almost qualified too. They finished what they started in Week 1 and finally got their well-deserved slot to the Grand Finals.
LR7 started to show signs of life in the last week of League Play when they cranked up the violence meter up to hundred percent. It nets them plenty of kill points, but at the cost of their team member's lives. In the Play-Ins, they exercised caution and channeled their destructive firepower in the right direction. They edged out Skylightz Gaming by one point to snag the golden ticket from their hands.
No luck for Nepal
Both the Nepali teams, Skylightz Gaming and T2K couldn't qualify even after winning a booyah each. Skylightz Gaming secured a win in the last Kalahari game, but it was too little and too late. They couldn't overtake LR7 Esports, missing them by a single point.
T2K won the game before that on Purgatory. Their hopes were looking up after a sudden upshift in their standings, but their dreams came crashing down at the start of Kalahari when they engaged PVS Gaming Esports in an early skirmish. PVS Gaming eliminated T2K in the 12th place, rendering their booyah in Purgatory useless.
And thus, at the end of the topsy-turvy Play-Ins, our six finalists march on to the Grand Finals. To catch them in action, tune in to Free Fire Esports India Youtube channel on 17th October 2021. You also stand a chance to win exciting rewards like weapon and vehicle skins, along with a pet and a character by tuning in at 6 PM.