FFIC 2021 Fall Play-Ins Preview: Who will qualify for the Grand Finals?
10/09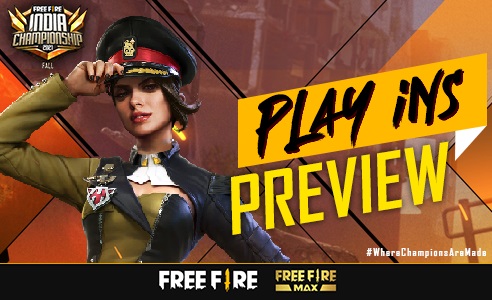 Free Fire India Championship 2021 Fall is about to start its hardest, most dreaded segment - the Play-Ins tomorrow. The 12 teams from the League Stage who couldn't make it to the Grand Finals directly get one last chance tomorrow. If they end up in the top 6, then they will find themselves in the Grand Finals, if not, then their journey in FFIC 2021 Fall ends here. Here's what you can expect from these teams tomorrow.
1. Aura Gaming Esports
This surprise contestant surprised everyone with their breakout performance this time. Nobody expected them to be able to hold their ground in the championship, considering this is the first time they are participating in a premier tournament, however they did much more than that. They gave the top-dogs a run for their money, and almost qualified too! They were in the top 2 up until the second week, and only slipped by narrow margins to the third place, missing the Grand Finals by an inch. We expect them to do well in the Play-Ins.
2. Trained 2 Kill
This Nepali team showed great potential. Given that this was their first premier event too, they impressed us. They have a great amount of firepower, which can be their strongest point. Their game sense also was on point, the only thing that did not work in their favour was getting into the zone during the last few phases of the game. But when the zone is indeed in their favour, then their odds shoot up significantly. If they can get their zone prediction game right in the Play-ins, expect these guys to finish in the top 6.
3. Team Chaos
Team Chaos was an FFIC finalist last season. We stand corrected, not just a finalist, but they were in the top 5. They were one of the favourites to qualify from Group A, however their performance left a lot to be desired. Their form doesn't seem to be top-notch and it feels like they are out of touch with their element. If they can fix the problems, then they should be able to qualify. This team has a decorated career, and missing out on a FFIC Final will be heartbreaking for their fans.
4. LR7 Esports
LR7 lacked the edge to stay afloat in the championship. Their first two weeks were abysmal. However, in the last week of the tournament, they forged themselves anew. They started to pick up more fights than usual and were a lot more aggressive. Their fighting skills were on point during the last week, however it was too little and too late. In the Play-Ins, if they can keep up their kill quotient, it will be great. They just need to make sure they don't overcommit and end up losing too many players while picking up these battles in the early phases of the game.
5. TSM
TSM was performing really well during the first two weeks of the tournament. They were in the top 2 for a long time, but only slipped a little in the last 2 days of the tournament, which was enough for Head Hunters to overtake them. They won the Free Fire Tri-Series, a contest in which the best teams of the subcontinent participated. It stands to reason that they should be able to prove their mettle once again.
6. Titanium Army
Titanium Army was mostly in the middle of the pack during the League Stage. While they had some really good fights and memorable clutches, they couldn't finish their games strongly, and hence lacked the ability to convert fight wins into booyahs. They start strong, but if they can finish strong as well, then they will be the complete package.
7. PVS Gaming Esports
PVS have been the party poopers of the lobby. This was a team that third partied rampantly, regardless of who was up against them. They always show up to 'vulture' on the other team's momentum, and while they were able to piggyback off of them, they were able to capture the opportunities presented to them, they weren't able to create their own opportunities. If they can find a way to forge their own path, they will be on a highway to the Grand Finals.
8. Skylightz Gaming
Skylightz Gaming wasn't bad. Considering that this was their first time, they held their ground. Unfortunately, they were dealt a bad hand, where all the teams in their groups did not present them the opportunities to move ahead. They were almost always able to keep all their players alive until the third circle, but then, they started to lose their players one-by-one while rotating. If they can find a way to keep their players alive and numbers up for longer, or avoid rotating a lot, then their chances of survival increase.
9. UG Empire
UG Empire is a super strong contender. Their zone control ability and firepower is through the roof. Once they get started, it is hard to stop them. Their prediction might not be on point, but the best part about their gameplay is that they don't need to predict the circle correctly. If they can get into favourable positions which makes it easy for them to rotate anywhere and keep options open, then they can get out of any sticky situation.
10. Team Elite
Team Elite was going toe-to-toe against 4Unknown. While they were performing really well all throughout the League Stage, their desperation got the better of them. They tried to deliberately target 4Unknown on the last day, and went out of their way to ruin their games, but ended up failing themselves. If they just focus on their own plan instead of targeting the others, then there is nothing to stop Team Elite. They have been dubbed as the 'cursed team', and the curse will be stronger if they don't even make it to the finals. Can they summon the magic to push themselves through to the finals.
11. From the Future
At this point, we are getting to the teams that have been struggling to keep up with the tournament. This team is truly an underdog, and they were dealt the worst hand when they were placed in Group C - "the group of death". While their chances of qualifying for the finals are low, they should use this as a learning experience. If they learn from their mistakes in the League Stage quickly enough, they can have a memorable performance for the world to see.
12. Arrow Esports
Arrow Esports have the potential to win fights if they can avoid getting third partied. Their fights last for too long, and they cannot wrap up their battles in time. The longer these fights drag on, the higher the chances of other teams coming in to disturb them, and hence they get drowned in a hailstorm of bullets. Faster execution can get them their ticket to the grand final.
These were the twelve teams that will be competing tomorrow in the Play-ins. Only the top six teams can make it to the finals. Who will make the cut, and who's dreams will be cut short? Find out tomorrow by tuning in to the stream on our Free Fire Esports India YouTube channel, at 6 PM IST.