FFIC 2021 Fall: Here are our Top 18 Teams for the League Stage
09/07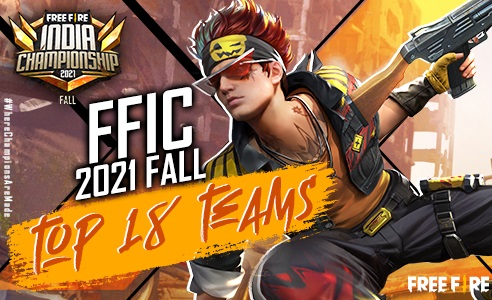 With the conclusion of the FFC Closed Qualifiers, we now move on to the highly anticipated League Stage of FFIC 2021 Fall. 12 battle-hardened teams from the Closed Qualifiers along with 6 other seeded teams from the FFPL 2021 Summer Finals will lock horns at the League Stage, starting from 17th September.
As announced before, the 18 participants in the League Stage have been divided into 3 groups consisting of 6 teams each - 2 seeded teams and the rest 4 from the Closed Qualifiers. In a round robin format, these 3 groups will play against each other from where only the top 2 teams from each group will directly qualify for the finals and the rest will have to battle again in the Play-Ins before securing a place in the Grand Finals. Now, it is time to present to you the top 18 challenging teams from India and Nepal who have made it to the FFIC 2021 Fall League stage.
Here are the 18 participating teams at the League Stage divided into their respective groups:
Group A
1. Total Gaming Esports - FFPL Seed

2. Desi Gamers Esports (Survivor 4AM previously) - FFPL Seed

3. Trained 2 Kill

4. Aura Gaming Esports

5. LR7 Esports

6. Team Chaos
Group B
1. TSM FTX - FFPL Seed

2. Blind Esports (Captains Previously) - FFPL Seed

3. Titanium Army

4. PVS Gaming Esports

5. Skylightz Gaming

6. Head Hunters
Group C
1. Team Elite - FFPL Seed

2. 4 Unknown - FFPL Seed

3. UG-Empire

4. Arrow Esports

5. Galaxy Racers

6. From the Future
Each group contains star studded rosters as well as budding esports talents who are determined to prove their worth at the National stage. While we would like to see the newcomers showcasing some dominance over the experienced professional teams and create inspiring moments, let's admit that a lot of you will still root for the favourites. Nevertheless, no matter who you root for, it will be a pure delight to watch these best of the bests go toe to toe against each other for that six direct tickets to the Grand Finals. The League Stage goes live on 17th September from 6 PM IST on our official Free Fire Esports India YouTube and Facebook channel.