Throwback to Free Fire India Championship 2021 Spring
08/25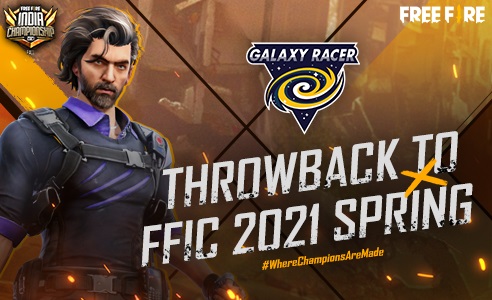 The Free Fire India Championship has always been, the most prestigious tournament that one can ever win in the country. It's our flagship event, and performing well on that platform will open the floodgates of success for you. We have had two FFIC Championships so far - The FFIC 2020 Fall, which was won by Total Gaming Esports; and FFIC 2021 Spring, where Galaxy Racer emerged as the champions. Today is not Thursday, but we shall throw it back to FFIC 2021 Spring and see what happened, so we can get a glimpse of what to expect this time.
Intense rivalries
After their brilliant victory at FFIC 2020 Fall, Total Gaming Esports split up. Vasiyo and Golden left the team to join Galaxy Racer along with two new players. Total Gaming Esports too, picked up some young guns to fill the void. But both the rosters were struggling in the build-up to the FFIC Grand Finals. The strength that these guys once had no longer flowed through their veins, and both the teams were not performing optimally. Not only were they weaker than their previous forms, the strategies too were similar to a certain extent, making them fight each other often. This rivalry was certainly one to note during the FFIC 2021 Spring Finals. The fans were split over who to support, because both of them commanded just as much respect as the other.
The rise of Team Chaos
Team Chaos had always been a team that would perform consistently, but nobody ever saw them as contenders for the throne. During the FFIC 2021 Spring Grand Finals, we saw a completely different form of Team Chaos. They were dominating right from the start. They even won the Purgatory games by a landslide making us consider that speciality maps can be a part of the meta as well. Their playstyle would shape the competitive scene in the months to come.
Team Elite was considered cursed
Team Elite was an extremely dangerous team during the league stages. They were the only team that would be able to win booyahs without losing a single player, and do it consistently. Their kill points were on a whole new level, and they dominated the league stage with relative ease. Going into the finals, they were one of the favourites to win. More than half the casters were expecting Team Elite to win, however, they did not win. They could only get bronze this time, leaving their fans disappointed. This was the tournament where people started to come up with the terminology that Team Elite is "cursed".
Unexpected winners
Galaxy Racers won the tournament with a nail-biting performance in the last game of the day. Vasiyo flexed his exemplary leadership skills by identifying the win conditions of their teams. He was able to split away from his team and get plenty of frags, while his team survived safely elsewhere. Due to his big brain plays, his team was able to accumulate both placement and kill points together, thus maximizing their winning potential.
This was also massive because not a lot of people expected them to win. They were not in their top form, nor did they perform well during the league stage, as a result this came as a shock to a lot of people in the community. It seems like the split from Total Gaming did not affect their chances of winning after all.
In this way, the FFIC 2021 Spring Finals was full of twists and turns that nobody could see coming. This just proves that FFIC will always be a thriller to watch. Want to find out more about what you can expect with the upcoming FFIC 2021 Fall? Also, check out the FFIC 2021 Spring throwback video here.