FFCO National Finals: Top 5 Players to watch out!
08/11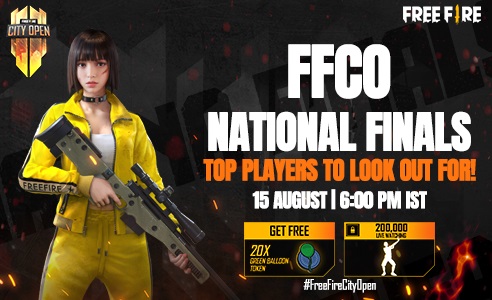 We are only a few days away from the Free Fire City Open National Finals. Teams, both well-established and underdogs will fight it out for the grand prize of INR 15 Lakh. While this is a team game, a few players have the potential to single-handedly change the storyline of the tournament. These are some of the players that you must keep your eyes on during the National Finals.
1) LT - Pahadi (Lucknow Tigers)
Pahadi is probably the best player in the country right now. He has proven this time and again in FFIC, FFTI and FFPL. Known for his deadly dual-sniping skills, this player is truly the elitist of them all. In his long and arduous journey through the CIty Finals and the Play-Ins, he picked up 42 kills and dished out more than 21000 damage. It's natural for someone to have these many kills, considering they have played 18 matches, a lot more than anyone else in this lobby. However, one must not forget that this is a player that has the capability to consistently frag, no matter what weapons he has or who he is up against. This young champion, this uncrowned king, represents the Lucknow Tigers, and his roar will surely shake his opponents down.
2) HN - Nivesh (Hyderabad Nawabs)
Nivesh is representing Hyderabad Nawabs, and this city could not have asked for a better 'captain' to represent it. He massacred the entire lobby during the City Finals, to the extent where the casters were not even hyping him up anymore, they were just straight up scared. He got 34 kills and dished out 15569 points of damage. While this number is still smaller than Pahadi, one must remember that he did all of this in just 6 matches, whereas Pahadi accumulated his kills over the course of 18 matches. With an average of more than 5 kills per game, this man is an absolute beast. We believe that he will be able to scale the peak that his opposition has put up in front of him.
3) MS - Swastik (Mumbai Strikers)
Swastik has rather humble stats. 15 kills and just a bit more than 8000 damage is a decent number for a clean victory. Even though these numbers might not be as impressive as the others on this list, all these frags were impact frags. He got several game-changing multikills with his M79 Grenade Launcher and frag grenades. These were the kind of kills that decimate an entire team in a single swoop. He then finishes what he started with his trusty M1887 Shotgun. He was crucial for his team's success during the Mumbai Finals, and was able to pull off some great clutch plays.
4) CC - Nikhil (Chennai Conquerors)
The Chennai City Finals was a close affair. Jallikattu TN was able to qualify directly for the National Finals with a margin of only one point. With such a close gap, the tiniest mistakes can be the difference between glory and regret. Nikhil's performance for his team was impactful because of his 200 IQ grenades in the last game. He picked up 19 kills with an average of 3 per game. This consistent performance was the reason why his team stands a chance today to play against the finest in the country.
5) VV - Kallu (Vizag Victors)
The Vizag City Finals were a pleasure to watch because all the participating teams were a bunch of underdogs. Yet, we saw some great plays from not only the winning team Last Hope, but from their competitors as well. Kallu's team was hovering around in the top 3 all day, but only overtook the competition at the last moment to secure the National Finals spot and represent Vizag Victors. With 20 kills and 8960 damage, he scored the few crucial points that pushed his team over the edge. We hope he can keep up the same performance against the bigger names in the finals.
Check out the Top 5 Players to look for in the National Finals here.
The National Finals are set to begin at 6 PM IST on 15th August 2021. Be sure to tune in to our Free Fire Esports India YouTube Channel to watch and cheer for your favourite players.
For more information regarding Free Fire City Open, please visit https://ffco.garena.com/