Free Fire All Stars Asia 2021: Tournament Preview
07/22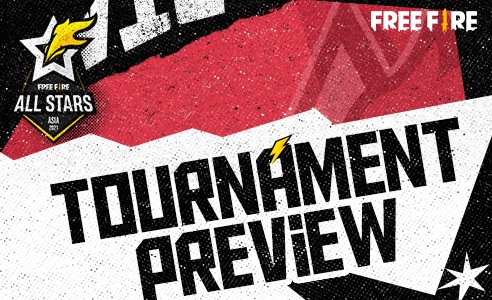 The Free Fire All Stars 2021 will begin tomorrow and we start with one of the most exciting regions - Asia. The three-day competition is going to be a celebration of all things. Free Fire with exciting new modes, top content creators, and pro players are thrown into the mix. The tournament will feature three modes, played on each of the three days.
July 23 - Bomb Squad Mode
July 24 - Clash Squad Mode
July 25 - Battle Royale Mode
Check out the Free Fire All Stars Asia 2021 Format Explainer here.
Invited Teams
The team's from across Asia will be part of the event:
1. Team Pho - Vietnam
2. Team Com Tam - Vietnam
3. Team Sate - Indonesia
4. Team Indomee - Indonesia
5. Team Samosa - India+Nepal
6. Team Dosa - India+Nepal
7. Team Tom Yung Kung - Thailand
8. Team Som Tum - Thailand
9. Team Biriyani - Pakistan
10. Team Boba - Taiwan
11. Team Durian - Philippines+Cambodia+Malaysia
12. Team Hilsha - Bangladesh
The tournament has a total prize pool of $30,000 with each day's prize pool set at $10,000. Make sure to tune in to the Free Fire All Stars Asia 2021 live stream on 23rd July, 24th July, and 25th July 2021, at 4:30 PM IST on our Free Fire Esports India Youtube channel and support your favourite teams.