FFPL 2021 Summer: Grand Finals Preview
2021/07/17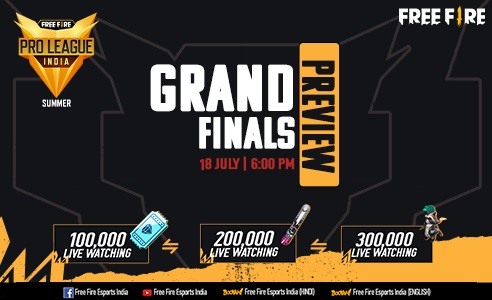 It's finally upon us - The Free Fire Pro League 2021 Summer Grand Finals champions will be crowned later today with one team walking away with the bragging rights. With INR 35 lakh on the line as well as 6 spots to the next Free Fire India Championship season, the stakes are higher than ever. Let's take a quick look at what is to come.
When and where
Matches will go live at 18:00 IST on July 18, 2021 on the Free Fire Esports India YouTube channel. A total of 6 maps will be played with the champions being decided after that.
The Teams
The following teams will be a part of the grand finals for the Free Fire Pro League 2021 Summer:
1. 4 Unknown
2. Captains
3. Galaxy Racer
4. Last Breath
5. Life Hackers
6. Survivors 4AM
7. TSM-FTX
8. Team CHAOS
9. Team D Esports
10. Team Elite
11. S8UL
12. Total Gaming
Check out the FFPL 2021 Summer Grand Finals Trailer here.
Make sure to tune in to cheer for your favorite teams and don't forget to share the stream with your friends and family to achieve the live viewership milestones for some exciting rewards!!