Free Fire Pro League 2021 Summer: Week 3 Recap
07/13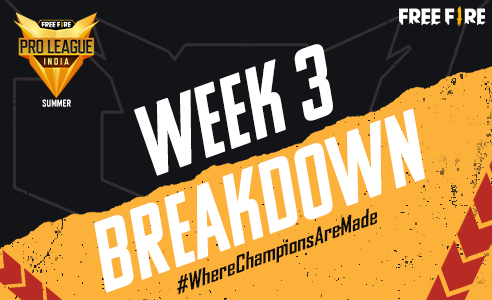 The League Stage of the Free Fire Pro League has come to an end. Across six grueling days spread out across 3 weeks, eighteen teams have grinded their way to the top twelve that will be playing in the Finals of the tournament. We wish all those teams a hearty congratulations. Let's take a look at how the last two days of the League Stage unfolded.
Team Elite proved that they are a class apart
We have always made it pretty clear during the recaps of the previous weeks that Team Elite will most probably top the group table and win the tournament. It was evident when other teams couldn't catch up with their lead even after playing more matches than them. This time, they went for an absolute stomp, destroying their opponents with no mercy.
On the last week of the tournament, they had extremely dominant performances on Bermuda and Kalahari, as they picked up high kills and booyahs in both the games. This would have been a hat-trick if they won Purgatory too, but they missed out on the booyah in that game by a narrow margin. Pahadi has been the life of the team throughout the entire tournament and this time it was no different. They set up a lead of more than 100 points between them and the team ranked second, with nine booyahs in total.
Total Gaming and Galaxy racers in a fight to the death
Total Gaming and Galaxy Racers have always run into trouble during the Pro League. In particular, they have run into each other so many times. During the entirety of the first week of the tournament, these two teams kept on facing each other multiple times over in the same drop locations on almost every map. Because both of them were fighting each other immediately upon landing, they both ended up ruining the week for each other. Both the teams were in the lower half of the points table for the most part of the tournament. Finally, in the second week onwards, both the teams switched up their drop locations and ended up avoiding those early game conflicts to survive longer in this tournament.
Total Gaming put up a big performance on the final day of the League Stage. Earlier on Day 5, they were reeling at 14th position, not even in the top 12, which means their chances of making it to the finals were non-existent. They got the booyah with a lot of kills, and after several other consistent showings, They went from 14th to the eight best teams in a single day.
LVL Iconic, AFF Esports narrowly miss the cut
LVL Iconic and Ankush Free Fire showed us some potential during the first week when they were able to contest in the top 8 spots every now and then. Some consistent placements and kills kept them safe for the first four days of the tournament. But given how almost every other team was stepping up, the performances of these two teams seemed bland in comparison.
They are both experienced teams and big names, but their performances were shallow on the stage of FFPL, and this made them face the elimination axe. One could see them slowly dip lower and lower in rankings. Their fans were hoping for a comeback, but it never came through.
Zero Booyahs for LVL Iconic throughout, while two for AFF Esports made no difference as their consistency was not up to the mark, and performance slumps were huge.
Big win for Life Hackers
A tremendous performance on the final day from this side catapulted them from 17th place to 11th place and granted them the grand finals slot. Their booyah and other podium finishes were the reason for this enormous jump. Life Hackers was a new name in the competitive scene that got their first big break in this tournament. But in their very first Tier 1 tournament, this team bagging a Grand Finals slot for itself is big news. Baby was a player that caught everyone's attention. They won 4 booyahs in the whole tournament, 3rd highest overall. This shows how they were, given certain situations that favour them. Let's see if they can repeat this success in the finals.
These were some of the spiciest storylines from Day 5 and 6 of Free Fire Pro League 2021 Summer - League Stage. Twelve teams will compete against each other in the Grand Finals. The following teams are
1. Team Elite

2. 4Unknown

3. TSM-FTX

4. Survivors 4AM

5. Team Captains

6. Team Chaos

7. Last Breath

8. Total Gaming

9. S8UL

10. Galaxy Racers

11. Team D Esports

12. Life Hackers
We congratulate all these teams for making it into the Grand Finals, and we wish them the best of luck! Make sure to tune in to the Grand Finals of the Free Fire Pro League 2021 Summer on 18th July on our Free Fire Esports India Youtube channel and complete the live-watching milestones to win some amazing rewards!
If you missed out on any action on week 3, take a look at the FFPL Week 3 Frag Highlights here.