FFCO Vizag Finals Champions: Team Last Hope
07/12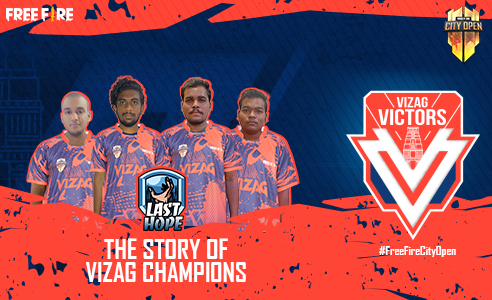 The Free Fire City Open turned into a battle of underdogs during the Vizag City Finals. It was one of a kind qualifier where none of the well-known Tier 1 teams were participating, and the underdogs got a chance to duke it out among themselves. Team Last Hope were able to win the region finals and qualify for the National Finals with a tiny margin of just one point, but a win nonetheless. We are sure that they must have been feeling very ecstatic and relieved to find out that their efforts finally bore fruit.
We realized that since this is a relatively new team to the competitive circuit, very little must be known about them. And after their win, they must have certainly acquired some fans. Hence we sat down with Prem from Team Last Hope, to find out more about his team, their origin, and what background they come from.
Q. How did you meet your teammates? How did you form your team?
It was purely a stroke of luck how I came across my teammate. I'm not even sure if I should call this luck or fate. One of my teammates is my own brother. I met the other two while I was playing CS customs. Their gameplay impressed me. I tried to sell them the dream of participating in an esports tournament and convinced them to join me and form a team together. And thus, my team came together.
Q. What kind of competitions have you participated in before?
Last year when Garena conducted their first official tournament, I participated in it with another squad, and we actually managed to get to the top 32. We lost there, but it was still a very good memory that I will never forget. So that was my first time participating in an official event. Ever since then, I have tried to participate and achieve as much as I can.I shoot my shot at every open qualifier.
Q. How is your experience in FFCO till now? Is it different from previous tournaments?
My experience in FFCO has been really good. This is truly one of a kind tournament that gives the underdogs a chance to show their talents. It was a pretty cool experience for me. I only found out 3 days before the tournament that I have been selected for the Vizag Finals. So this was big news for me. We had very little time to do our preparation, but we were still able to pull it off. We riled up our self-confidence and basically gave ourselves a pep talk before entering the tournament lobby. Even with very little preparation, it worked out for us. It was really thrilling.
Q. What kind of preparations did you do before the tournament?
Like I said before, we only found out that we were shortlisted for the finals 3 days before the finals, hence we did not had too much time to dive deep into the details. We built a basic blueprint of what our game plan would look like. It involved discussing basic strategies like where to land, where to go, how to attack, etc. We did not have very elaborate strategies. We just knew that all we needed to do was not panic during the actual game. Panic leads to bad decisions, and we just wanted to stay as cool, calm and composed as possible so that we would be able to make rational decisions. I'm glad that we were able to overcome this challenge and top the table.
Q. What's the next step for your team?
I really want my team to succeed on the big stage. I want to take them to the higher levels of competitive Free Fire. This is a very good opportunity for us to prove ourselves. We are going to leave no stone unturned to practice for the National Finals and other tournaments too. If we are able to accomplish so much in just three days, imagine what we will be able to achieve if we are given an entire month to practice for the finals. I am confident that we will be able to mark our presence in the National Finals.
Q. What do you think about your chances in the FFCO Final?
I feel we will be able to hold our ground. At the very least, I think our team can get to the top 6. I am not hoping for too much, but then again, I don't want to aim too low either. We will practice as much as we can, build up a stable game plan, experiment with new strategies and try to get as high up on the points table as possible.
Those were the words of one of the rising stars in the Free Fire City Open, who will be representing the Vizag Victors in the Nation Finals. It is great to see teams with such humble beginnings make their mark in the Pro Free Fire circuit. You will get to see them again during the National Finals on 15th August.
However, up next, we will be heading towards the Wildcard Finals. The finest teams from all over the country will be participating in this one. Be sure to tune in to watch the stream on 16th July 2021, at 6 PM IST and support your favourite team.
For more information regarding Free Fire City Open, please visit https://ffco.garena.com/