Free Fire City Open: Vizag Finals Recap
07/10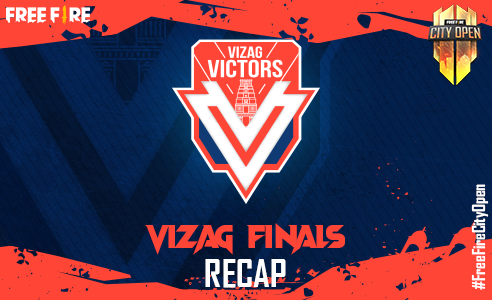 The FFCO Vizag Finals was a really close affair. This tournament was full of up-and-coming teams. No Tier 1 teams were participating from Vizag, nor any well-known players were present in the server. This meant that all the teams got a blank slate to start on. It created a wonderful opportunity where new players and new playing styles could flourish. None of the players who competed today had experience of playing in such a high-profile tournament before, which made things even more exciting.
Team Last Hope kickstarted their journey in the professional Free Fire circuit by winning the Vizag Finals and securing a spot for themselves in the National Finals. Black Ops, Flex Esports and Crazy Amigos finished in the top 4, and we will be seeing them again in the City Play-Ins.
First map: Bermuda
The flight path was pretty vertical, starting from Shipyard towards Mars Electric. Right off the bat, it seemed we had an early fight in Pochinok as three teams dropped in close but most of them dispersed quickly towards Mars Electric and Factory. Another potential fight was evaded as Team Black Ops picked up first blood and then withdrew from Hangar. It was understood that the teams were very disciplined in their approach and respected their opposition. Team U18 looked healthy holding an unorthodox position to the south of Peak out in the open but they could cut off a lot of rotations in that region. The first real fight happened in Peak where team Flex rushed in on Team Incredibles and then wiped them off and took control of their compound. A lot of fighting was going on in the fourth circle on the south of Peak. Team U18, Team SS esports, High End, Last Hope all of these teams were trying to establish control over that part of the land. Team U18 looked in the best shape out of all gathering 6-7 kills in the process but also losing two players in the process. However they were taken out in the final zone. Smart Esports who were keeping a low profile as of now were suddenly very dominant having all their players alive. They had a good position to pick off a lot of kills in the final circle and dominate their final clash against team Last Hope to win the Booyah. ISE-Storm from their team was certainly the standout player because of his grenade skills.
Second map: Purgatory
The flight path was new and was very heavily favouring the eastern side of the map. Starting from the Fire Brigade area and ending at Ski Lodge. Teams who land on the eastern side of the map were certainly pleased before we saw the circle was a twist in the tale. It was the exact opposite to the flight path all the way favouring Crossroads, Marbleworks and the region around it. That forced a lot of teams to rotate early and a lot of them converged near Brazilia. Brazilia was hot but it was team Last Hope who got 7 kills in that skirmish. Team Flex was doing well, holding their territory, and took out team Black Ops. The circle ended in Marbleworks and team Crazy Amigos joined the party late but they showed up in style. As soon as they reach the area they start challenging other teams trying to enter the circle. They picked off a few teams among whom was team Ismart Esports. Team NK, Team Flex had 6 kills but they were weakened because of the prolonged battle which team Crazy Amigos took utmost advantage of. They landed an 11 kill booyah and CA-Reddy was the star player of the match with 4 kills.
Third map: Kalahari
The flight started from Old Hampton and ended at Santa Catarina. This time the drops were very dense towards regions like Command post, Stone ridge, Shrines etc. Stone Ridge saw the first fight where Black ops decimated Team SS and also picked up kills from team Tuf Kings. The remainder of Tuf Kings were taken down by Ismart Esports while they were attempting to fall back from Team Black Ops. Next up Team Incredibles use the launch pad in Shrines to jump right in front of team U18 and decimate them in Bayfront. The circle moved towards Bayfront which gives Team Inc an advantage. They gatekeep team NK and acquire more points as they press for more area inside the circle. The circle finally ends at Confinement where it was heavily favouring Team Black Ops in the end. They had control of the only compound inside the zone and they dominated the final fight against Team Thunder. An 11 Kill booyah for Team Black Ops was impressive.
Fourth Map: Bermuda
Flight path was vertical yet again. It began in Factory and ended to the right of Shipyard. We witnessed two early fights, one in Mill and one in Shipyard. Team Inc wiped out team Ismart Esports. Meanwhile, Team NK destroyed Tuf kings in Mill. Team Last Hope went all out against Team CA in Observatory and secured a few kills. Team Incredibles were being challenged at Mill by team NK who defeated them in a squad battle. The next circle was favouring the southern part of the map, covering almost all of Mars Electric. It then finished near the Factory where few teams had already rotated. Team LH successfully gatekept Team CA. Team Black Ops was taken down by Team High End. And last but not the least, Team Flex had a lot of kills before they charged into Factory. Team Flex Esports finally triumphed in Bermuda with 6 kills, beating team SS esports to take the booyah.
Fifth map: Purgatory
Another vertical flight path starting from Fire Brigade to Moathouse. Team Tuf Kings got eliminated early against Team NK in a fight in Brazilia, however, Team NK was reduced to a two man squad in the process. The next fight happened between team Black Ops and Team Ismart Esports where team Black Ops not only infiltrated, but also exterminated team ISE in the blink of an eye. A nice grenade from BO.MBEBEE blew a barn house open and took down Two ISE players and wiping out the remaining players was a cakewalk for team BO. The circle was near Brazilia, encompassing a little of the western island. We were headed towards an urban finish. The fourth zone was crowded, as 10 teams were scrambling for space and all hell broke loose. Team Black Ops went from strength to strength, and got a 15 kill booyah which sent them flying to the number #1 spot on the charts.
Sixth map: Kalahari
This was an absurd flight path, starting between Santa Catrina and Confinement, and ending at Old Hampton. Team Last hope got 4 free kills against a weaponless Team INC in The Maze. U18 took down Team Ismart Esports in Command Post comfortably. Team BO was leading ahead of Last hope with 1 point only on the overall standings and the title of Vizag Victors was still up for grabs as the final game could still turn the tables. Even Flex Esports had a realistic chance to win the Vizag Finals but U18 spoiled their plans as Flex Esports were beaten down to a pulp by Team U18 in command post. Team last Hope also were playing well as they had 9 kills as they approached the final circle. Team Black Ops were reduced to a 2 man squad but they were good enough to bring down the entire Team Last Hope while they were attempting to enter the circle. Everyone thought that Team BO would win the Vizag finals because of that fight. But the math was complicated as Team Last Hope had 9 kills already. Team Black Ops came second, against Team U18 who had 14 kills in this map.
When the final scores were compiled, Team Last Hope triumphed over Black Ops by a point to win the Vizag Finals and go to the National Finals directly. All the effort of U18 went in vain as they narrowly missed on that #4 spot which meant they did not qualify for the play-ins.
Team Flex esports and Crazy amigos were 3rd and 4th respectively. Such scores made us realize just how close contested and nail-biting this final was! We wish all the qualified teams the best of luck for the future.
This concludes all the City Finals that we had in store for the FFCO. Next time, we will be seeing teams from all over the country participating, as we head to the Wildcard Finals. Make sure that you tune in to our Free Fire Esports India YouTube channel on 16th July 2021 at 6 PM to witness the action.
For more information regarding Free Fire City Open, please visit https://ffco.garena.com/