FFCO Chennai City Finals Champions: Jallikattu TN
07/01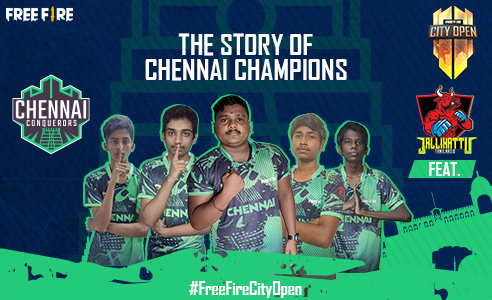 Team Jallikattu TN are the winners of Chennai Finals of the Free Fire City Open. They will be representing the Chennai Conquerors in the National Finals. We spoke to Nisanth AKA Nisli from the team, to hear his thoughts on the tournament and how he has been preparing for it.
Q. How did you meet your teammates? How did you form your team?
I met my team approximately six months ago. I searched for experienced players with a good amount of game knowledge for the tournament, and I came across these people. It was difficult finding such people that think alike, but eventually we found each other. It was meant to be.
Q. What kind of competitions have you participated in before?
Our team mate Muthu was always very interested in official Garena tournaments like FFIC. The urge to participate was always there, but unfortunately, he was caught up with his work commitments. But the moment we were shortlisted for FFCO, Muthu took the leap. He took a hiatus from his job to practice for the tournament. Now that we have qualified for the next stage, he is very happy. He might even consider pursuing gaming as a full-time career.
Q. How was your experience in FFCO? Also, is this your first official Free Fire tournament?
Our experience was really good. We have participated in a few local tournaments just for fun, only to see what the experience is like. However this is our first time participating in a large-scale tournament like FFCO.
Q. What kind of preparations did you do before the tournament?
We just played as much as we could. Practiced our aiming and our reflexes. We have tried in several smaller tournaments before this. Tried and tried till we succeeded. Nothing special in our preparations, just a lot of grinding.
Q. Did you plan specifically about winning in the first two games or it just happened naturally?
We did not really have any specific plans as such. We were confident about getting the booyah in the first few matches. We believe in mental momentum. If we win the first few games of the day, we will be relaxed and calm throughout the rest of the day. If we lost, we would have been under pressure, and we wouldn't have been able to play to our best ability later on. So here, we needed to win the first game in order to put ourselves in a good place mentally, and apply pressure on the enemies. After the first game was in the bag, our mood was significantly better and we were able to play with a cool head.
Q. What's the next step for your team?
The next step for our team is obviously to crack the national finals of FFCO, but we don't really want to stop at that. There's an old saying "It will take you some time to score your first goal, but once you do, you can't wait to score the next and the next after that".
That's the same for us. We don't want to stop at the FFCO Finals. We want to qualify for bigger and better stage like FFIC.
Q. What do you think about your chances in the FFCO Nationals?
We are very excited. I don't think we will be able to sleep before the finals, we are that excited! We wish the best of luck to all the other teams involved and we are looking forward to the finals!
Those were the thoughts of Nisanth AKA Nisli from Team Jallikattu TN. He will be competing in the National Finals on 15th August. Up next, we will be having the Lucknow Finals on 2nd July 2021. Make sure you tune in to the stream at 6 PM IST.
For more information regarding Free Fire City Open, please visit https://ffco.garena.com/