Free Fire Pro League 2021 Summer: Top 5 Performers-Week 1
07/01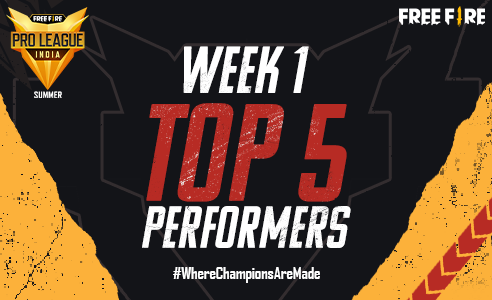 Only 2 days in, yet the action in the Free Fire Pro League 2021 Summer has peaked. We saw some great coordinated assaults by all the teams that have been participating. Tactics and brain-games were being deployed in every game, and it was a pleasure watching all of that. But even in a team game, there were some players who played much better than everyone else. All these players were in the top 5 leaderboards. Let's take a look at how they performed.
4UN - Swastik
The Swastik is a symbol of prosperity and wealth, according to religious literature. And Swastik's presence in 4Unknown gives his team all the prosperity it needs. He outperformed everyone this week and topped the kill leaderboard. He had 21 kills and more than 10000 damage. He was consistent and omnipresent for his team. With an average damage of 853 per game, he was the one dishing out punishment for his team.

FTX - OldMonk
This guy was a beast. While he stands second on the leaderboard with 19 kills, one must tip their hat to him, because he was able to do it in just 6 matches. Swastik picked up 2 kills more than him, even though he played 6 more matches than him. He carried TSM-FTX to sixth place and demolished every problem in their way. With a massive K/D ratio of 3.2, his stats are twice as impressive as anyone else. Not just this, he dished out 959 damage per game on an average, the highest in the lobby.
4UN - KvnalJR
Kunal has improved significantly since we first saw him in the FFIC circuits last year. This improvement has also enabled his team to get to the #1 spot on the points leaderboard. With 18 kills, he contributed a lot to the team in terms of kills. But more than that, he was the person who was initiating the important battles. Almost all of his kills are entry frags, which are arguably the most important frags that one can get in a close-range battle. He was great at creating space for his team with his impactful fragging and nading.
4UN - Deadsoul
With three out of the five players being from 4Unknown, one can imagine what a great performance they must have had this week. However, deadsoul was not at the top of his game this time. He performed really well on the first day, however his performance slipped on day 2. The same can be said about the performance of his team in general. 16 kills is still a pretty good number, although this number can certainly have been better. He was able to make some great calls and get his team the lead on the first day, and that's the sole reason why his team still has a bit of a lead at the end of Day 2.
D - TanejaOP
Taneja is also a pretty old and experienced player in the Indian Free Fire circuit. He has played for a long time under many different banners. This time, with Team D Esports, he is back to prove that a fresh team can also take on some of the biggest names in the circuit. He has been an all rounder, getting kills with shotguns, snipers, rifles and even grenades. Out of the top 5 in this list, he has the lowest kills at 15, but that is still an impressive number overall. However, he has 8347 damage, which is much higher than even Old Monk. That means, Taneja might not have a lot of kills, but he has been a great source of damage for his team, and his teammates might have capitalized on his damage. His grounding presence helped his team survive and get into the top 5.
These were the players who performed really well on the first two days of Free Fire Pro League. But do you think that they'll remain in the top 5 in the next week as well? Or will someone else take their place? To find out, tune in to our Free Fire Esports India official YouTube Channel on 3rd July 2021, at 6 PM IST.