FFCO Kolkata Region Finals Champions: Head Hunters
06/28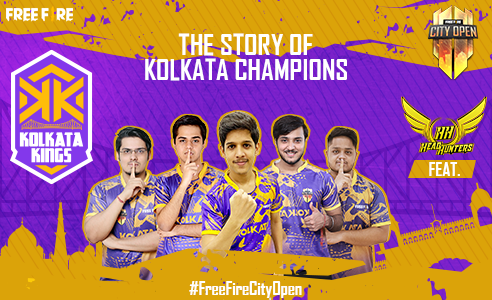 Team Head Hunters are the winners of the Free Fire City Open Kolkata Finals. They will be representing Kolkata Kings in the National Finals. We spoke to Satyam 'Viper' Thakur about his team's performance and what they are expecting in the future.
Q. How did you meet your teammates and eventually formed your team?
Head Hunters is one of the older esports teams in India. There was a discord server named Bluestacks India, they used to host many Solo Tournaments on a daily basis. So most of the T1 players got recognition from there. So I met Aasim and Maimungda there. We met as opponents on most occasions, sometimes they killed me, sometimes I killed them. Our skills impressed each other and that's how we got onto the same page. Taneja was a former member of Team Elite, we were quite impressed by his performance and he turned out to be a great addition to our roster. Sonty was a former Income Tax member and he too had some impressive skills.
Q. What kind of competitions have you participated in before?
I have competed in a lot of Free Fire tournaments, across all three formats i.e. Solo, Duo, and Squad. I have also competed in other modes like the Clash Squad Mode. I represented Future Station esports in the recent Free Fire Titan Invitational and I'm also representing Team S8UL in the Ongoing Free Fire Pro League Summer
I have been competing for so long that I almost know all the strategies, pros & cons of competitive Free Fire.
Q. How was your experience in FFCO? Is it different from previous tournaments?
FFCO was a completely different tournament as compared to the others.
I was pretty sure that we would witness several "out-of-syllabus" scenarios as there were many underdog teams. It's easy to predict the top-tier teams as we know their strategies, their rotation patterns, their drop points and all, but we have no idea about the underdogs. They can turn out to be a serious threat between you and your chances of winning. It is definitely different from other Free Fire tournaments. This is the first time you'll be getting an opportunity to represent your region in any tournament.
Q. What kind of preparations did your team do before the tournament?
We just worked on polishing our skills. Tried pushing our limits, worked on our strategies more, and developed more synergy. We tried thinking out-of-the-box too, which definitely worked out for us in the finals.
Q. What's the next step for your team?
So we are already the Kings of Kolkata now. Our next target is definitely becoming champions of the inaugural FFCO. We gave our 100% in the Regional Finals but will push ourselves to the limit in the National Finals.
Q. What do you think about your chances in the FFCO final?
We definitely have a great chance. We will be facing tough competition from other teams, but we ain't an easy opponent you can defeat. Head Hunters is a force to be reckoned with. Looking forward to a great fight from all the other teams in the National Finals. We wish all of them the best of luck!
Those were the thoughts of HH-Viper. He spoke about how his team was formed and how he acquired enough experience to get to where he is right now. We look forward to seeing him again in the National Finals. Don't forget to tune in to the next stream of FFCO, where we will be choosing the champions of the Chennai Region.