Introducing the Free Fire Pro League Dream Team
06/25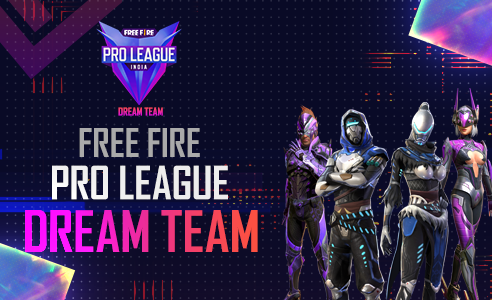 Free Fire Pro League 2021 Summer will see the top teams in the region fight for a spot in the Free Fire India Championship 2021 Fall and a whopping INR 35 lakh prize pool. While we already have our 18 teams and matches are underway, it doesn't mean you guys can't be a part of the event. We are proud to announce the Free Fire Pro League Dream Team event, which will allow the viewers and esport enthusiasts to show their prediction skills and earn some cool prizes along the way.
What is it?
The FFPL Dream Team Web Event is a fantasy draft that can be accessed via the game. It will last from 23rd June to July 18, i.e. the entire duration of the FFPL. Fans have to select a roster of 6 players on each match day from those who are participating in the main event.
Earning Points
Based on the performance of each of these players in the event, you will earn points. You will have to choose a Captain, who will be earning triple points if you have a Captains power-up.
Powerups
Additionally you can use power ups to boost your team's score tally. You can redeem powerup redemption codes from the FFPL livestreams. To get the powerup codes, watch the FFPL 2021 Summer live stream on each matchday which will be flashed each day at the end of the stream.
Prizes
You will win some exciting in-game prizes based on your team's daily ranking. The rewards are divided into 3 tiers and will be rewarded based on your ranking.

Tier 1 - Bundle (Permanent)
Tier 2 - Skins (Permanent)
Tier 3 - Diamond Royal Voucher
Check out the Dream Team section in the game to find out more about the event. Also, check out the Dream Team Tutorial video here for more details regarding the FFPL Dream Team Event.