Top 5 teams to look out for in Free Fire Pro League 2021 Summer
06/24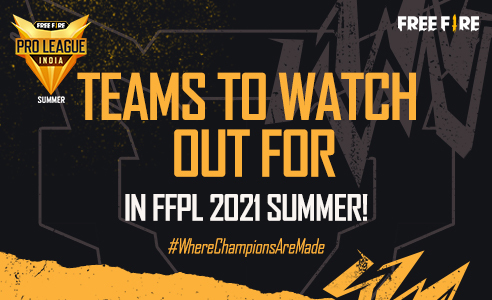 A fresh new season of Free Fire Pro League 2021 Summer is about to begin. This one-of-a-kind tournament pits together the old guard with fresh blood. Teams from all of the sub-continent and varied backgrounds are going to be participating in this tournament. Here are some of the teams that you should be keeping an eye out for.
Galaxy Racer
Galaxy Racer are the latest pioneers of Free Fire in India. This is the team that won the Free Fire India Championship 2021 Spring. They did so in an epic way too. Led by Vasiyo, one of the most experienced Free Fire players in the country, Galaxy Racer are a big threat, and one of the biggest contenders in the Free Fire Pro League. They have the capability to rapidly adapt to changing situations and turn the tides of the battle in a jiffy. While many did not expect Galaxy Racer to win FFIC 2021 Spring, they proved them wrong. However, in the subsequent tournaments that followed, their performance lacked the same spark that they carried in FFIC. They would want to prove that they still have it in them to win championships.
Team Elite
Team Elite seems to carry a curse on them. They perform really well during the League Days of any tournament, but choke during the final. Since the League Days are usually longer and give you plenty of opportunities to earn points, Team Elite's consistency across the longer format can give them the edge they need. They often take the lead and put quite a bit of distance in between them and any other teams that might be trying to catch up with them in terms of points.
However, unfortunately, because the finals of most tournaments are just one day long, teams can no longer rely on consistency. All the teams need to go for bursts of high-scoring, high-action games. This is why Team Elite had to settle for 2nd place at the FFTS and the 3rd place in FFIC 2021 Spring, even though they were the favourites to win it all. Fortunately for Team Elite, the Pro League format rewards consistency. They might finally be able to break their curse.
Sixth Sense
Sixth Sense is the sign of a sweaty lobby. This team has a kill switch, that they keep flipping on and off. When it's off, they focus on more of a conservative approach and focus on rotating into positions first. When switched on, they still take good positions, only after a few violent detours. Seamlessly transitioning in and out of battle hunger is what keeps this team at the top. They may not have been able to prove their supremacy in FFIC 2021 Spring, but they made up for it by conquering the Tri Series.
Team Chaos
Team Chaos was one of the front-runners in the Free Fire India Championship 2021. On the day of the finals, they were in the lead right up until the last game. It was only in the last game when Galaxy Racer stole the trophy away from them. They are a really balanced team and are great at zone control. With two second-place finishes, in Free Fire Titan Invitational and FFIC, Team Chaos have been eyeing the throne for a long time. The most scary part about Team Chaos is how good they are at Purgatory. Having a specialist map in your kitty is always helpful. Imagine being able to consistently dominate two out of the six games every day. That's a massive influx of points working in the favour of Team Chaos.
Total Gaming
The champions of the yesteryear, Total Gaming was once considered to be the best team of the country. And why wouldn't they be. They did win the FFIC 2020 Fall. But since then, they have been on a decline. They hit rock bottom when they finished last in FFIC 2021 Spring. Total Gaming are coming back to reclaim their lost glory and remind people why they need to be taken seriously.
These are the top 5 teams that you should be keeping an eye out for in the upcoming Free Fire Pro League. Is your favourite team on this list? These are just some of the teams that have done well in previous tournaments. However, there are many more contestants who have been invited, each deadlier than the next. There are also some underdog teams that have qualified from the FFC mode open qualifiers. Who knows what they might bring to the table. They might just have the potential to upset big teams. The true test of skill is about to begin.

Make sure you tune in to watch Free Fire Pro League 2021 Summer on our Free Fire Esports India official Youtube channel on 26th June 2021 at 6:00 PM IST.