Free Fire Tri-Series Champions - SIXTH SENSE
04/28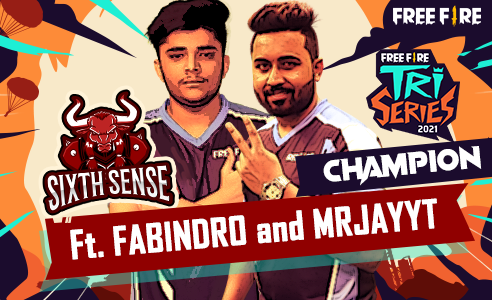 Team Sixth Sense proved everyone wrong and won the most prestigious tournament of South Asia - the Free Fire Tri-Series. They clutched the tournament in a nail-biting last-moment fight which changed the outcome of the championship. Such occurrences are rare, and players with the nerves to survive under such immense pressure are even rarer. Take a look at what FabIndro and MrJayYT have to say about their journey to become the best Free Fire team in the subcontinent.
Q1. What a close win. How are you guys feeling after winning FFTS 2021?
FabIndro: We've been consistent for a long time. We've been to the top 3 of several big tournaments but never won a title. FFTS was a big opportunity for us, to not just become the champions, but to become the champion of champions.
MrJayYT: *uses Bollywood dialogue* Jab Kisi cheez ko poori shiddat se chaaho, toh poori kaynaat tumko unse milane me jut jati hai (roughly translates to - If you want something with all your heart, the universe conspires to unite you with it).
Q2. What was going on in your mind during the last game?
FabIndro: We just tried to keep calm and composed even though it was a high-pressure situation. All we knew was that we needed to finish in the top 3 with plenty of kills, no matter who we fight. We didn't really pay much heed to which team was fighting us.
MrJayYT: Not really. At least for me, I was keeping track of Team Elite. All that was going on in my mind was that we need to survive longer than them.
Q3. Did you realize that Team Elite has died and you can win? Or did you just do your best no matter who was alive and who wasn't?
FabIndro: Not really. Whether TE was alive or not, we needed to go the distance and do as well as we could. Whatever happens, happens. Whatever can go wrong, will go wrong. Murphy's Law is in effect. My job is to shoot heads.
MrJayYT: We just tried our best. We went wherever we heard sounds of fighting. We killed enemies. We tried to get into the zone too but lost two of our players. But that's okay, Indro-Bhai and I survived and took the team into the top 3.
Q4. What was the morale of the team like up until the fourth game? You had so many second-place finishes but no booyah. That must have been frustrating, right?
MrJayYT: Not at all. In fact, we took it very positively. We were leading ahead of teams that had booyah's in their bag, while not having any ourselves. We didn't care about the dub because we had the most consistent placement points and a whole lot of frags.
Q5. When the league stage ended and there was more than 100 points difference between you guys and TE, what did you discuss? How did you guys plan to take them down?
MrJayYT: Not really. We never counter-strat any particular opponent. We just focus on ourselves. We looked at the mistakes we did during the league stage and then made sure that we do not repeat those mistakes during the final.
FabIndro: Yes. We had no plans against Team Elite. But we did have several plans for OURSELVES. We had several situations mapped out and contingencies prepared.
Q6. Did the plan in the previous question actually work or did you have to make adjustments?
FabIndro: We kept in mind that we will play our natural aggressive style. We won't back off from fights. We were prepared to pounce on any 3rd party opportunity. We were on our toes, vigilant all the time, and attentive. And because of that, you'll notice that we had a high number of kills, which got us that much closer to winning.

Q7. How did you guys decide to pick up the new player Monk?
FabIndro: We wanted a new talent that was versatile and could frag with any weapon. Basically an all-rounder with high firepower. Someone who would listen to us and play with us in a well-coordinated manner. We are very happy that we could find a player like Monk to join our team.
MrJayYT: Yes, we wanted someone who could listen to our commands, but also add value by doing what he does best. Hence we picked Monk. It paid off well.
For now, FabIndro and MrJayYT enjoy the fruits of their labour and revel in the success of being the best team in the sub-continent. But there are bigger and better challenges headed their way. It'll be exciting to see them take on these challenges head-on.