Free Fire Tri-Series: Day 6 Recap
04/19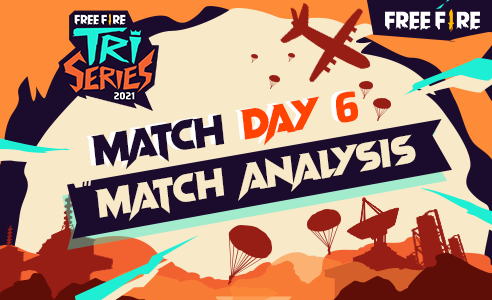 The league stage of the Free Fire Tri-Series has concluded. After six long days of high octane Free Fire action, we have the 12 best teams that will be competing in the grand finals of South Asia's most prestigious Free Fire tournament. Let's quickly recap what went down on the last day of the tournament before finals.
House of Blood shine in the absence of Team Elite
House of Blood has proved time and again that they are the best team from Pakistan. On several occasions, they've even come close to proving that they are the best in the subcontinent, but Team Elite stood in their way. Since Elite wasn't playing today, House of Blood bullied the lobby today with a great performance in the first game. They won the booyah on Bermuda without breaking a sweat. Gatekeeping, compound breaching, anti-flanking, you name it, they did it.
Team Chaos prove their supremacy on Purgatory
Team Chaos has always been regarded by our casters as the best team on Purgatory. Today, they proved that they are indeed the kings of the grasslands by winning both the matches on Purgatory. In the second game, even though it seemed like they might just be overwhelmed by the sheer number of opponents present in the final circle, they still won. TC - Scary managed to pull off a clutch kill at 13HP to win the game.
In the fifth game, they won without even breaking a sweat. They always had control of the zone. Preemptive grenades weakened their opponents, and if that wasn't enough to finish them off, they pre-fired every corner that they could have come out of. It's like they were always 2 steps (or 20) ahead of their opponents.
Nemesis and Riot win a game each to secure themselves in the middle order
Riot did pretty well in the first week of the tournament, but then started slipping in the second week, and their fans feared that they might not make it to the finals. But they got an important win in the fourth game of Bermuda.
Nemesis, on the other hand, has been decently consistent. They don't always have a dominant performance in matches, but when the circle gods favour them, they make sure they don't let it slip. This time in the third game of Kalahari, they found themselves in the zone in the fifth circle. They made a ring of fire hot enough to melt enough who dared to cross it. Both these teams did well enough to qualify for the finals. Although, all throughout the tournament we felt like they were holding back. They showed potential, but not too much to overwhelm us. Do they have some strategies saved for finals? Maybe. There's only one way to find out.
Revengers make it to the finals by the skin of their teeth
In the last game of the day, two teams - Last Breath and Revengers were battling it out in the top 2 spots of the game. It was a very important game for them both, as they were at the risk of getting eliminated. Revengers won the game and Last Breath had to settle for second place. But even though both the teams performed well and made it to the end of the game, Last Breath couldn't accumulate enough points to qualify.
Revengers got to 182 points at 10th place. Last Breath was tied at 175 points with Demons Pride. However, Demons Pride had more placement points than them, hence they qualified and Last Breath missed out on the finals. Had Last Breath won that last game on Kalahari, they might have made it.
The teams that have qualified for the finals of Free Fire Tri-Series 2021 are:

1) Team Elite
2) House of Blood
3) Sixth Sense
4) Extreme Ex
5) TM Swag
6) Team Chaos
7) Nemesis
8) B26 Mystics
9) Riot
10) Revengers
11) Galaxy Racer
12) Demons Pride
Watch the epic finale on 24th April 2021, at 2 PM IST on our Free Fire Esports India YouTube channel.