Free Fire Tri-Series: Day 5 Recap
04/18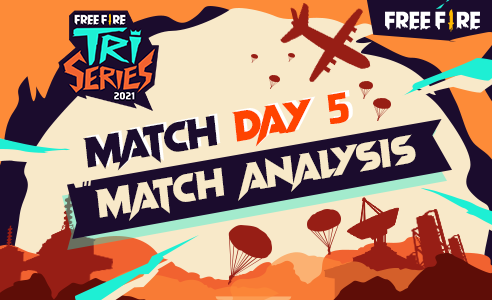 We know, you know, everyone knows that the Free Fire Tri Series is in full swing. Everyone also knows that Team
Elite was leading the tournament in terms of points, wins, and kills. Today, however, they really drove the point home. What we saw from Team Elite today wasn't even domination anymore, it was cyberbullying. It was a whitewash, with them winning 4 out of the 6 games. What's even more unbelievable is the fact that someone managed to win a game with zero kills! Enough beating around the bush, let's jump right into the recap!
Extreme Ex win a booyah with zero kills
This sounds unbelievable, but if there was an achievement for being a pacifist in Free Fire, Mehdi from Extreme Ex would get it. He won the first game of Bermuda by doing nothing.
He was the last member alive from his team, hiding and trying to stay alive to grab as many placement points as possible. As the circle closed in around the L-Shaped house on Peak, several teams like Team Elite, Revengers, Sixth Sense, and Demon's Pride were busy fighting each other. Sixth Sense managed to win the gunfights and killed most of the people. Fabindro with his grenade launcher caused a great amount of destruction. But in the process of wiping out every other opponent, they sustained heavy injuries and succumbed to the zone damage. Mehdi, who did not participate in these fights and was watching it from the sidelines, saw as he saw players drop like flies in front of him and the zone finished off the last ones. He got a booyah handed to him on a silver platter, with zero kills! This was probably one of the funniest finishes we have ever seen in a tournament.
Team Elite win 4 Booyah out of 6
How do they do it every time? It's not like they had a zone advantage. It's not like the other teams were weaker or had lesser players alive. If anything, Team Elite was at a disadvantage on several occasions, but they still won almost every game that came their way.
Let's start with the second game on Purgatory. With the circle closing around Brazilia, nine out of the eleven teams alive at the moment had already taken up some compounds in the city. Team Elite was positioned on the heaven compound above the hill overlooking Brazilia. By the 4th circle, they realized that they won't be in the zone next. So they preemptively decided to get off the hill and come down to the city, even though they did not need to do so immediately. Of course, when there are so many teams and players alive in such a small area, chaos is inevitable. Team Elite lost Killer to a grenade attack. Do they fight? Do they run to the zone? Do they revive? With so many decisions to be taken in a matter of seconds, they decided to split up. Jonty and Iconic moved towards the zone, while Pahadi went back outside to revive Killer. He used Wukong's ability to avoid zone and bullet damage, revived his teammate, and then moved into the zone, following the path that his other two teammates had cleared for him. Having all members alive helped them win the game as they could throw more bodies at the opponents and trade frags.
Kalahari was the complete opposite of this. They never lost players, barely took any damage. Once the timer dropped, Elite slaughtered anyone who stood on their way. There was no elaborate strategy at work. Just them, their snipers, and headshots. They outclassed everyone with superior mechanics and aiming.
Finally, someone put their winning streak to a halt, but that's because Team Elite decided to have a bit of fun instead of fighting seriously.
Pahadi and Iconic landed on the roof of Factory, in the fourth game of Bermuda. Team Sixth Sense dropped in the same place. But in order to shoot down the Elite players on the roof, they had to use gloo wall boosts to get up. Naturally the players of team Elite had no weapons on the roof. The moment 6S-Illuminati climbed up on the roof, they both pounced upon him in Rocky Balboa style and killed him. Of course, both Pahadi and Iconic were killed just a few seconds later, but this humiliating punch kill must have left an impression in the minds of their opponents. While all this was going on TE-Jonty landed on the billboard on Peak, which is a cheeky hiding place that nobody would really expect him to be in. While the rest of his team seemingly threw the match away in order to have fun, Jonty survived and got his team to sixth place. Nemesis won that particular match (they desperately needed the points). We just can't help but wonder if Elite would be able to win if they actually tried hard in that game.
And then they answered that question by winning the last two games of the day back to back.
Fifth game - Purgatory - Team Elite is on the high ground with the numbers advantage. Agents EXP are the last team alive against them trapped in a 2vs4 with no chance of winning. Knowing that his team will win, what does Pahadi do? He goes for the melee attacks again. He rushed in and tried to kill the last player Agent - Zisan with his machete. While he did not get the kill, he damaged him enough that Zisan would die to the zone immediately after.
In the last game of Kalahari, they did not even have to try. They landed on the broken boat of Santa Catrina, and never had to leave that area as the zone shifted to that place and they were able to hold it like a fortress. Their ship sailed while they turned every other team into a sinking titanic. With this win, Team Elite has just established a new record of winning 4 Booyahs on a single day. A feat that has never been heard of before.
They are currently on 372 points, whereas the second rank team isn't even anywhere close to them, at 231 points. With a lead of more than 140 points, Team Elite has shown that they are a class apart.

A saving grace for the other teams is that they won't be playing tomorrow, so every other straggler might get a chance to gather their much-needed points. Watch the last day of Free Fire Tri-Series today at 2 PM IST on our Free Fire Esports India YouTube Channel.